What are you doing to keep your sanity these days? We are just coming out of our third lockdown… (only two more lockdowns now until Christmas.) Restaurants can have patio seating, but still no indoor seating. Stores can now have limited numbers of people inside. So it's a little better now, and most people have had their first vaccine shot – so things are looking up and maybe we are getting to the end of it. (I'm trying hard not to think of the new variants coming out. Eyes shut, ears covered, and I'm humming 'nah,nah,nah,nah…' to myself).
What are you doing to keep your sanity these days?
As those who have been following my blog will know, a favorite theme I've mine over the last 15 months is "staying sane in quarantine." It's about the various hobbies and other things I do to keep my sanity. I'm writing novels, of course. And blogging, which I find relaxing. And I've taken up cooking: I learned to bake apple turnovers a couple weeks ago, from scratch! I even made the pastry.
And I continue to do metal work. I forged this pair of fire pit tongs last week, for moving burning logs around.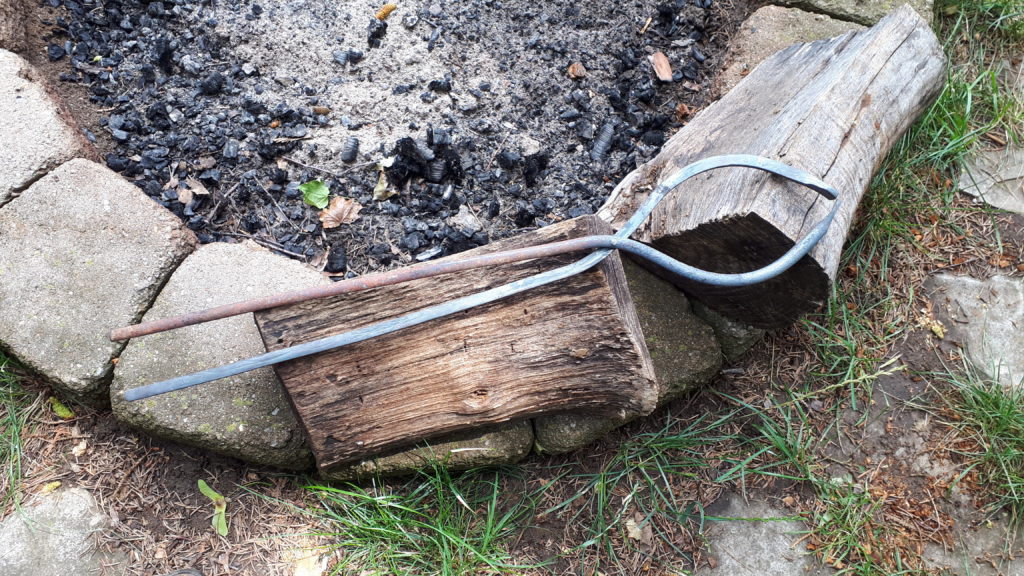 I forged these tongs from the leaf spring of an F150 pickup truck. My wife came up with the idea one night while sitting around a campfire with the grandkids a couple weeks ago. We were roasting hotdogs and making s'mores, and my wife was struggling to rearrange some burning logs, when she said to me: "You know honey, we probably don't need anymore homemade forged knives, as awesome as they are. The 87 you made, which are now filling up our kitchen drawers, are likely sufficient for our needs for the foreseeable future. But if you really feel like forging, we could use some fire pit tongs."
I took the hint and had fun making them.
Having a pair of fire pit tongs made from a pickup truck is pretty awesome, not to mention manly. The ends of the tongs come together so they can be used to pickup small burning sticks and coals, as well as large logs.
We've all been doing different things to cope as best we can. I love to write, and I can write for hours at a time and not notice the time go by. But after sitting all day with the laptop, I enjoy getting out to the shop and hammering on hot metal.
Visit michaelmanto.com for more great tips on this fun hobby.
Thanks for stopping by to visit my blog. Stay safe, and above all, stay sane!